Portal Inbox.lv offers a brand new product Inbox Apps, which is available to our users from June 2012.
The company is constantly working on one goal – to make users' life as comfortable, interesting and informative as possible. You can verify our statement by visiting this section.
What is Inbox Apps?
Inbox Apps is a place, where different, interesting and extremely useful web applications for both personal and corporate needs are collected and continue to be added every day. Inbox Apps uses InboxID to access all the applications on this section, which deprives the Inbox user of the need to fill out multiple login forms on various sites. That means that using just one Inbox login and password you can access all applications.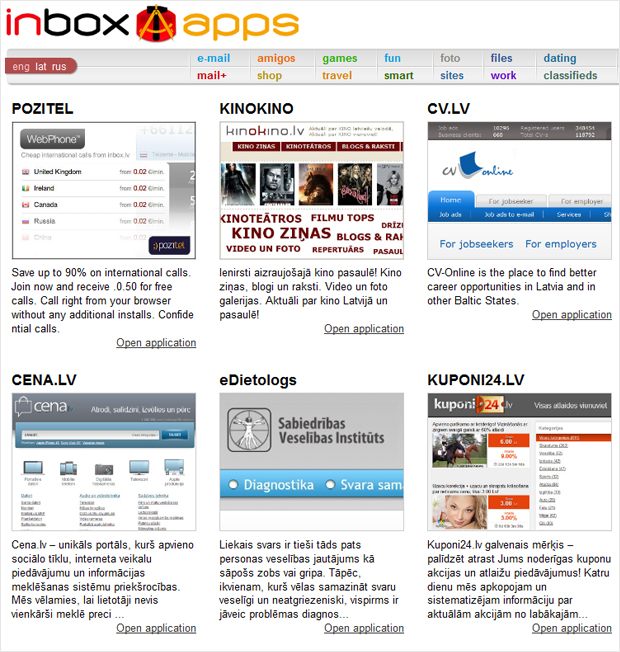 That is, Inbox.lv offers a constantly updated application package for all occasions and, thanks to InboxID, you don't have to wrestle with a password and login for each application you choose to use. Your standard password and login to log into your e-mail is enough.
Among all currently submitted applications the most interesting seem to be:
- application POZITEL, which allows you to save up to 90% of international calls charge to mobiles and landlines. Particularly pleasing is a fact that it provides automatic registration, confidentiality of conversations and most importantly – no need to install the program. Prices will pleasantly surprise everyone – phone call charges to many countries are even lower than those proposed by Skype.
- application eDietologs. We can assume that nowadays the application will be important not only for the lovely ladies. eDietologs can diagnose the problem of excessive weight in order to understand how to effectively deal with it, how to develop personal nutrition strategy.
- application eDieta. eDieta allows a person to develop a diet that takes on in full account your rhythm of life, personal preferences and other factors.
- application Marvel Grey. Plan a vacation or to earn your money abroad? Have discovered that you don't speak foreign language well enough? One click and you may use the latest and most effective language learning techniques.
To learn these and other applications you can on apps.inbox.lv!