Inbox.lv team continues to develop Inbox Mail mobile application. We're glad to share the review of changes in the latest version numbered 2.3.
This update brings the possibility to view contacts from Inbox Mail account – when writing a letter, You can select recipients from the address book, which is sorted alphabetically. The recipient is automatically added to the "To" or "Cc/Bcc". Contacts from the phone and contacts from the Inbox Mail account are displayed in a list, so we recommend to use the search function in order to find the desired recipient more quickly.
We've also added a new handy feature for the contacts – auto completion of the address. While typing an e-mail address, a list of previously saved contacts will be presented, suitable for the input combination. All You need to do is to choose the address from the proposed. If You are entering the addresses without using a hint, You must separate them with a comma (example: feedback@inbox.lv, info@inbox.lv).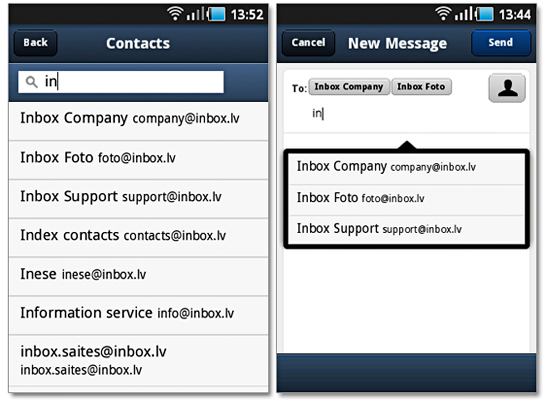 Mobile application now allows to move e-mails to folders. Feature is available when You open an e-mail and when You are working with a list of messages. To move one or more letters, You need to check out the necessary ones and click on the icon "Move" at the bottom of the screen. Next, select a folder from the list and confirm that You want to move the messages.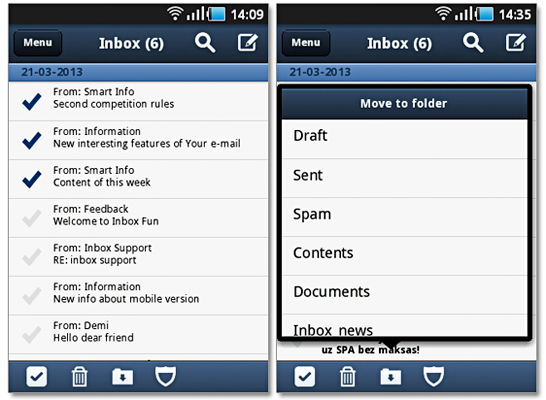 It also became available to recover deleted messages from the "Trash" folder.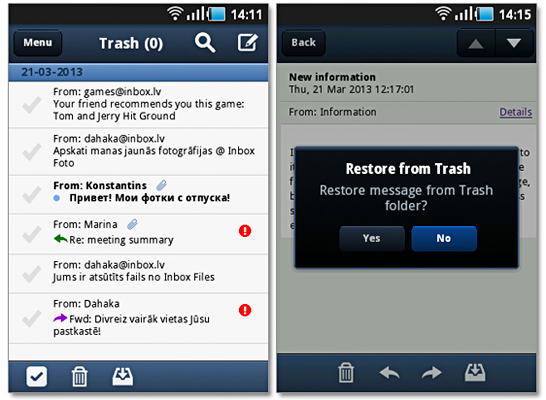 Inbox.lv team thanks all the people who help us in the development of this product, send their wishes, as well as share information about the problems writing us at feedback@inbox.lv.
P.S. Mobile Inbox Mail is available at http://m.inbox.lv. iPhone and Android users can install the application by using the App Store and Google Play respectively. The mobile application can also be downloaded at http://m.inbox.lv/inbox.apk.