Just two months after the launch of Inbox Mail mobile application, Inbox.lv team has prepared a new release of the application with advanced features and improved design.
Changes have affected the main screen with the list of messages in the folder. Sent mails have new icon now – green arrow pointing to the left. Forwarded and marked as important mails have violet arrow pointing to the right and exclamation point now. Each mail has a new element next to it – now You can select and delete multiple items at once. Text buttons for search and compose of new mail were replaced by graphic icons and situated at the top of the screen.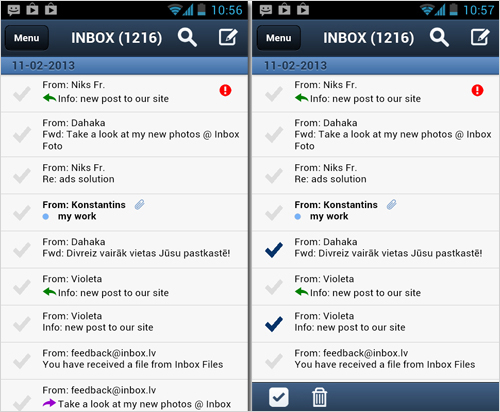 Viewing screen has new functions: Forward and Reply All. A little note – "Reply All" button is visible only when there is more than one recipient. To save space, only the most important information is displayed, and if necessary, You can always see full details of all recipients and the sender by clicking on "More". When the letter has attachments, the information on the number of the attachments is available at the top of the application. Text buttons to scroll through the letters have been replaced by more intuitive icons represented by arrows "up" and "down".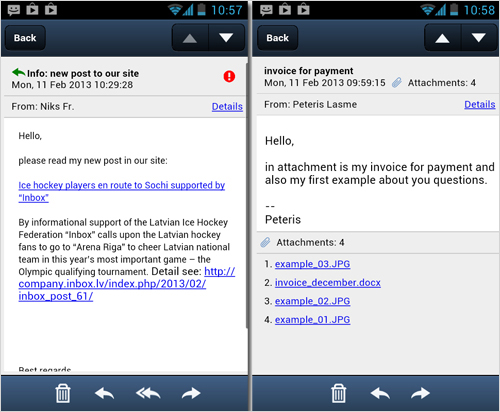 By default, all incoming messages will be displayed in HTML format. This parameter was introduced in the settings of the mobile application, if needed, You can always change the format to the text (TXT). When viewing emails in TXT format, option to switch to the HTML format is available at the end of each letter.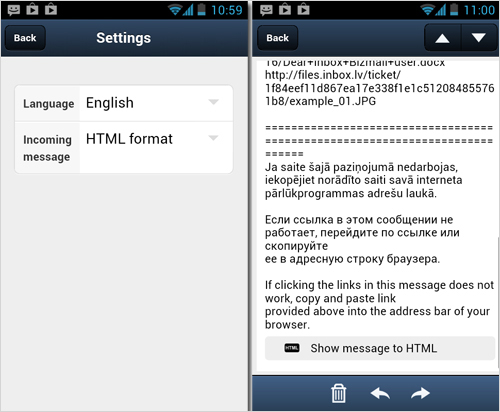 When writing a reply or composing a new message, You can add a recipient in the CC or BCC field. Adding an address from the contact list is also possible, but the current version supports only the contacts from Your phonebook. When replying to an e-mail, You can always watch full contents by clicking on the link "Show original".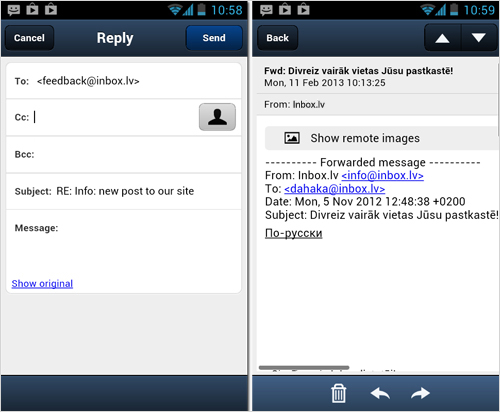 Hopefully, this version will gain credit and good reviews from our users.
Inbox.lv continues to develop new versions of e-mail mobile application, which will improve Your work with contacts, allow to add the attachments and notify about new messages.
P.S. We would like to remind that Inbox Mail mobile application available at the link http://m.inbox.lv, and Android and iPhone owners can install it on their phone, using Google Play and App Store. Mobile application also can be downloaded here – http://m.inbox.lv/inbox.apk.