For all Internet users is now available a new product of the portal Inbox.lv – Inbox Search! This is a handy search engine to find any pictures, videos and general information on the Internet. In addition, the results of textual information and videos You can sort by language, by selecting "All languages", "Latvian", "Russian" or "English". When working with images it is available to sort those by size: small, medium, large.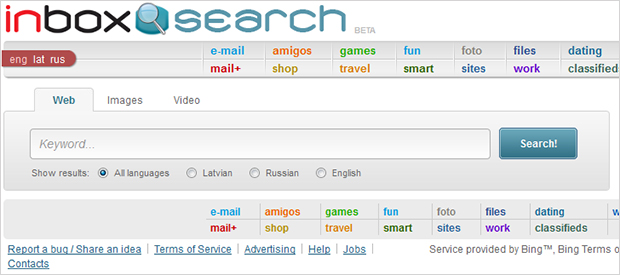 The main advantages of using the Inbox Search product – no advertising and comfortable use.
For all users of Windows Vista and Windows 7 are available special version of Internet Explorer 9, where the Inbox Search is available immediately – as the default search engine. Do not forget about the convenient new product Pin Note –it gives the ability to set the Inbox.lv icon to the control panel of Your computer. Updates will not take much time!
32 bit version: EN , RU , LV .
64 bit system: EN , RU , LV .