Now all Inbox.lv customers who use smartphones running Android 2.3.3 as well as its latest versions the most current Inbox Mail mobile application is available. It is a user-friendly application that functionally as well as in terms of performance speed is significantly superior to its previous versions. The user response can testify for the application improvement quality. Since May, the number of Android mobile application users has increased more than three times, reaching 110 thousand users, informs its developer Māris Ruskulis.
Māris tells the story about the most important changes: "In the new version of the application attachments, which can also be previewed and saved, can be added to letters. Letters can be marked as read, unread, important or unimportant. Another important change to the application – notifications for newly arrived e-mail can be received in whispering mode without switching off the sound. Additional improvement making usage of the new application extra comfortable to the smartphone users is its design, which is maximally similar to the Android smartphone standard design. "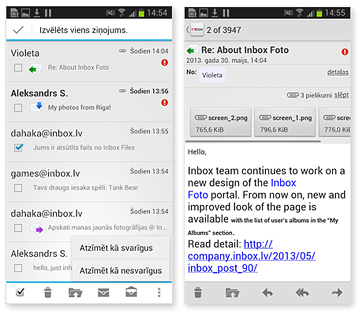 The original features of the Inbox Mobile previous version are also available in the new application. For example, the access to the remote e-mailed images can be blocked in its settings. Contact base is automatically supplemented during writing of a new letter. Letters can be forwarded to other recipients, moved from one folder to another, as well as Trash content can be deleted or restored – explains Māris.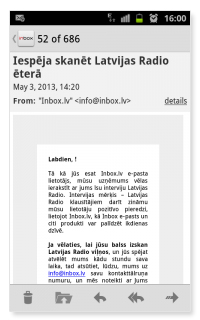 "I am also pleased to tell everyone that in the settings of the new application version we have placed the function Send feedback to Inbox.lv team. It facilitates the access to assistance if users experience any technical problems. In my opinion, this type of communication is convenient for all and we really want to receive users' recommendations to improve our service. All feedbacks received are processed by Inbox.lv technical staff and users' needs are included in our work schedule," Māris tells with enthusiasm.