Most recently, a new version of the inbox.lv mobile application for Android phone users was released. In addition to technical improvements, starting with version 4.1.X, the application was supplemented with new functionality.
One of the main innovations is the ability to use several e-mail accounts. If earlier it was possible to work with only one mailbox in the application, now You can work with an unlimited number of inbox.lv mailboxes without additional authorization. To use this functionality, You need to connect the desired e-mail accounts in the application settings (or Android account preferences) and then use the switch between the two.
Switching between accounts is available via new menu item "Switch Account" in the application settings. If You connect multiple e-mail accounts, the top line of the application displays the name of the current mailbox. To disable the account You just tap "Logout" in the application settings.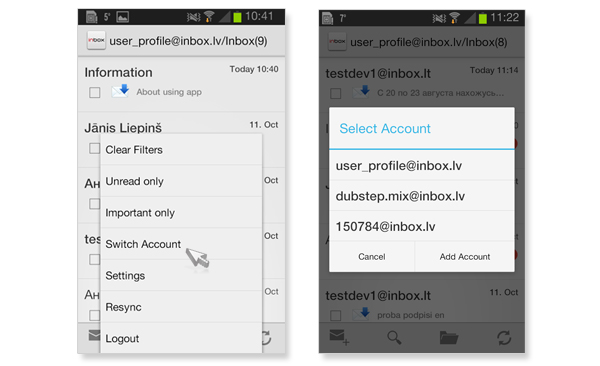 It should be noted that notifications of new e-mails will be delivered for all connected accounts. Notifications view is currently implemented as a common list of new messages, no matter for which account e-mail was received.
We couldn't skip the design innovations, so now You have the opportunity to choose a light or dark skin for the application (available in application settings).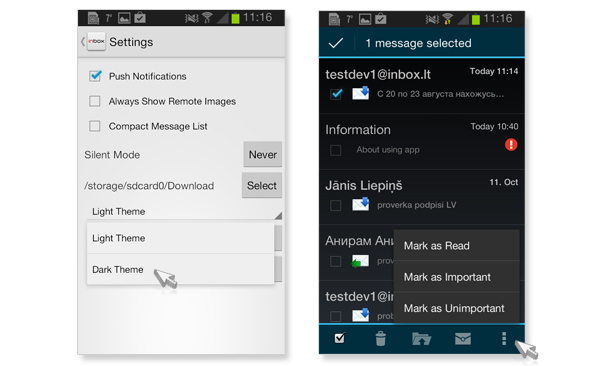 At the request of users we have added the ability to select the path to save the attachments of e-mails. Now by default files will be saved in the specified folder, which You can change in the settings if necessary.
In addition to the new functionality numerous technical changes have been made: improved data synchronization process; offline mode now works steadily, expanded error message handling; "google gms api" technology is used for notifications; fixes for the HTC Explorer phone; and many other changes for more reliable and safe operation of the application.
If you have questions on the operation of the inbox.lv mobile application, please refer to the "Help" section or write tofeedback@inbox.lv.