We are notifying users of Samsung Galaxy mobile phones that Inbox.lv mobile app is available in Samsung Galaxy Apps store since March 2015.
One of the main advantages of Samsung Galaxy Apps is that the apps are specially optimized for work with Galaxy gadgets.
To install Inbox.lv app you have to visit the apps store and go through the authorization process. The store is installed by default in all Samsung Galaxy gadgets.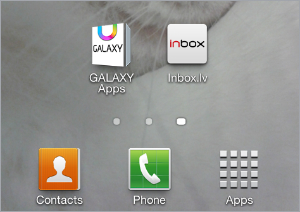 Inbox.lv app is a free of charge mobile version of Inbox Mail product, it has all basic functions for work with mail as well as the following additional features:
opportunity to work simultaneously with several accounts;
incoming mail notifications can be managed by selection of ringtones;
modern customizable interface including colour themes settings of the app;
easy work with contacts and files;
LV, RU, EN language support.
In case of questions or technical problems feel free to use feedback form in the application settings or write us at feedback@inbox.lv.