If You frequently use Inbox Foto, You must have noticed that lately the product has been altered and new options have been added. However, some things could have escaped Your attention, so let's go through the most important novelties, which have appeared most recently and can be found interesting by old users as well as the new ones.
Please, pay attention that the option to share the whole album or just one photograph with Your friends has been made more noticeable and can be reached from any point of the product. Wherever You are, the button "Email friend" always is visible above. Clicking this button, the standard form of e-mail opens. If Your album is protected by a password (the status "Password" is active), in the letter accompanying Your sending the proper password to a specific album will be named.
We remind You that, if the status "Private" is activated, You won't be able to share this album and the notification with the appropriate warning will appear on Your screen.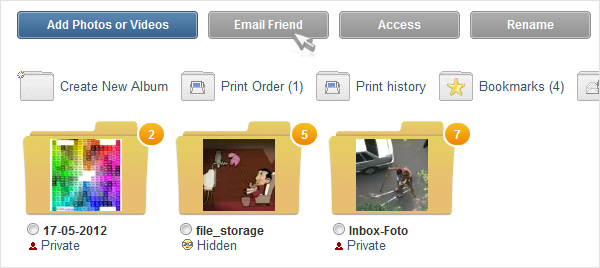 Now next to all Your private and public albums a number, which represents the photo count in every album, can be seen.
If You place Your mouse on a photo or on the name of the album, the data about its name, preservation date and other useful information will become visible. For separate photos it will be the name and the original file distension as well as user's name (the person, whom this photograph belongs to) and the name of the album, where the photograph has been saved in. For albums it will be the joint size of all the photographs in this album and the viewers count.
Now it's easy to find video files among photographs, because well known icon "Play" is visible on all of these files.
Now it's easier to upload files via Internet Explorer, because in case of uploading the browser offers the list of file formats by default, not like before, when it was just "Image Files".

We want to point out that problems with uploading archives have been technically solved and the list of file formats for uploading on Inbox Foto has been supplemented. At the moment You can upload:
Image files: jpg, gif, png, jpeg, tiff, tif, bmp
Archive files: zip, rar, tgz, tar, bzip2, gzip, tar.bz2, tbz2, tar.gz
Video files: mpg, flv, avi, qt, 3gp, mp4, mpeg, wmv, mov
Image raw files: cr2, crw, arw, srf, dng, kdc, dcr, mrw, nef, orf, ptx, pef, raf, x3f
After the improvement the brand new slide show has become available. Also the upload form has been simplified and made more intuitive. After the upload is completed You instantly can share the photos or carry on with the upload of new files.
We just can't keep quiet about new effects, which have become available just recently – it's adjustment of brightness, contrast and saturation. Using the saturation any of Your photographs easily can be turned into a black and white one.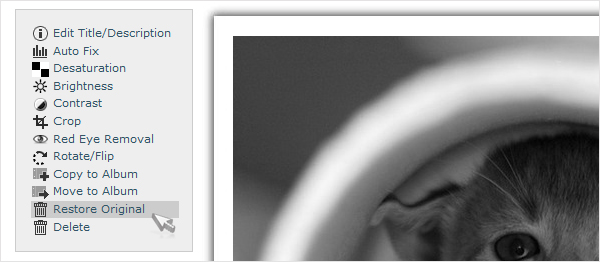 The old effects such as a red eye filter, photograph improvement, trimming and rotating are available as well. Please, take notice that You can rotate a photograph by any degree as well as make a mirror image of it.
Don't be afraid to use any effect and to experiment with Your pictures! Remember, You can always go back to Your original photo!