In the modern world, you can never stop! Constant development is a guarantee that we – Inbox.lv – will always be able to offer you the best possible services and design solutions, so that the products available on this portal are not just interesting but also visually attractive.
      Last year we developed a revolutionary new start page with a modern, responsive design. Meanwhile this month we have refreshed and created new, stylised products and mobile app logos which in their own way also illustrate the changes that have occured in the operations of this business over the past few years. We must admit that the logos that were modern ten years ago, with their three-dimensional form and illustrative rendition, have completely fallen out of fashion and become unsuitable for the modern usage environment.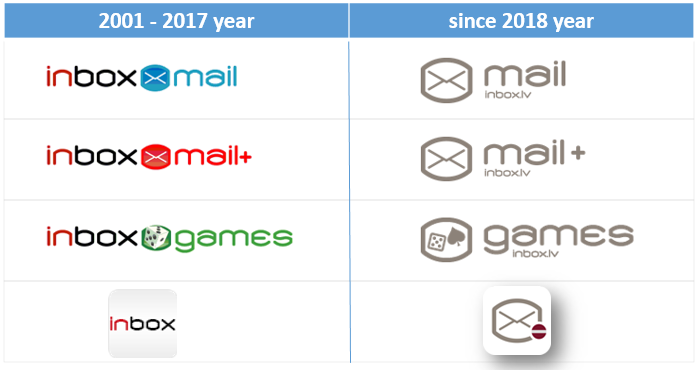 The minimalist design and simple colour scheme are linked not only with unpretentiousness, openness and trust, but also with attempts to create a more equal relationship with users of the portal. Of course, a unified visual identity is also a not insignificant factor, replacing the current differing logos. When creating a unified visual identity, large significance is given to font design and logo colour.
P.S. The new logos are available not only on Inbox.lv, but also on Inbox.lt, Inbox.eu and Mail.ee. Bring on the magic of spring and lots of pleasant changes!