As of November 1, 2012, Latvian mail service Inbox.lv together with LG Electronics launches the first e-mail application for SMART TVs – INBOX.
INBOX is a mail service for Inbox Mail, available today for the LG TVs. It includes all You need for e-mail. The application allows You to view the contents of a mailbox, write new messages, reply to received, send messages and more, as well it has a simple interface and doesn't require additional training or experience.
The main aim of the company SIA "Inbokss" in developing the project was the desire to offer users of the Inbox.lv portal another new way to access Your mail – through TV, just lying on the couch, while watching favorite shows and movies.
To begin using the Inbox.lv mail, You need to select INBOX application on Your LG SMART TV and log in (enter Your user name and password). Next, You will be redirected to the "Inbox" folder, where You will see a list of e-mails. Blue circular icon next to the letter indicates that the letter is new, unread. In addition, the number of unread messages in the folder is shown on the top (in the brackets). In order to switch between folders, You can use the buttons in the menu «Folders». For convenience and fast usage a filter "display only unread messages " is also available and buttons «Reply» or «Compose», located at the bottom of the screen, to respond or write a new message.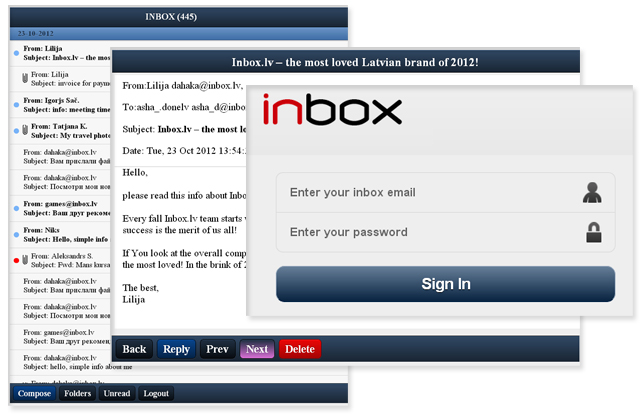 The idea of this project was announced at the end of 2011, but the development started this fall. It took two months for the entire implementation was carried out successfully to the final testing, and application INBOX become available to all Latvia's users of LG TV produced in 2012 and 2011.
TV probably hasn't become a full-fledged means of communication yet, but we hope for those who are just starting or already actively use SMART TV, INBOX application will be useful as well as necessary, allowing Inbox.lv users to stay connected with Your friends – even directly from the TV. Press release from LG Electronics is available here.
Inbox Mail – closer and more convenient for You!