The latest version of Inbox Mail features an integration with Inbox Files – the service for storing and sharing files. Now it is possible to save the attachments from the letters directly to the Inbox cloud.
You can save any file from a letter in Inbox Files simply by clicking on it with the left mouse button and selecting "Save to Inbox Files». After this operation, an icon of a paper clip will appear next to the selected file, thus indicating a successful saving. If You click on the icon of a paper clip, You will see a tool tip with a link to a directory in Inbox Files.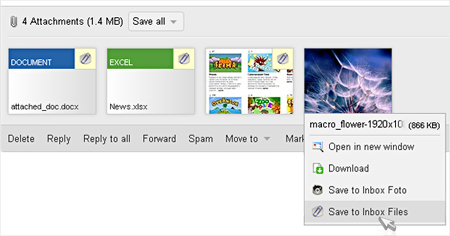 Attached documents from Your mail are stored in Inbox Files in a special folder named "Mail attachments." This folder has the same functionality as any other folder, so the stored files and even entire folder can be immediately shared with friends and colleagues. However, this folder can not be deleted and renamed.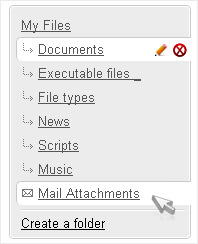 The "Mail attachments" folder is always at the bottom of the folder tree and has a special additional icon in the form of an envelope for a quick and intuitive navigation.
Several different files, sent in a letter, can be saved to Inbox Files at one time, not separately. To do this, click on «to Files» in the «Save All» menu – all the attachments of messages will be saved to the Inbox Files «Mail attachments» folder. You can can save files with any extension of up to 1.5GB to Inbox Files.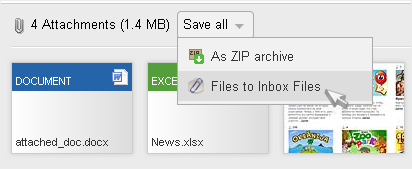 As it has been before, pictures, photos, and other attached to the letter images can be saved directly to Inbox Foto. All You have to do is to click on the file with the left mouse button and select «Save to Inbox Foto» from the proposed menu. Files are automatically saved to the "Mail attachments" folder – an icon in the form of the camera shows their successful saving. The same file if You want, can be saved both to Inbox Files, and to Inbox Foto.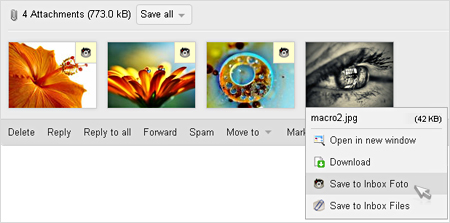 Using the Inbox services for storing and sharing data has become even more convenient. Back up Your documents in Inbox Files and store Your photos in Inbox Foto. And now You can do this without leaving the mail!