Our e-mail users now have the opportunity to find the necessary information directly from Inbox.lv main page.
Inbox team continues to work for user's convenience. To save your time we've created an internet search engine on our website.
Internet search engine is hosted on the Inbox.lv main page next to Inbox logo. Its use is not associated with login into mailbox. By default the information is searched on Google, but we added a "super feature", which saves your time and makes supersearcher very fast. It has the ability to instantly search for the desired on one of the four most used Internet sites (www.google.com, www.youtube.com, www.amazon.com, www.ebay.com).

To quickly find the necessary information, type it in the searchers bar, select the desired website from the list provided below and press 'Enter' or 'Search' (magnifying glass sign).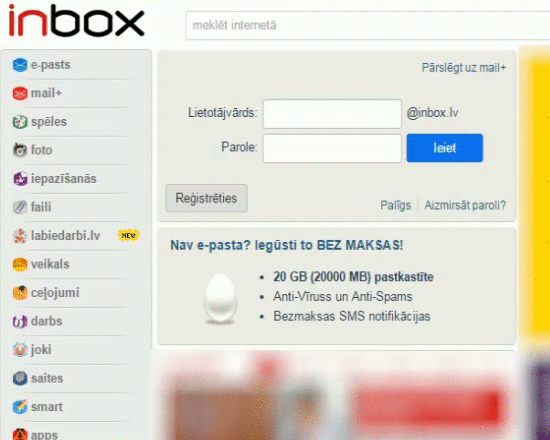 You can use both uppercase and lowercase letters and punctuation marks on our supersearcher.
We have prepared a series of recommendations to help you find the most relevant results:
Accurately specify your question. Refine the topic you are interested in and choose specific keywords. If you enter the question 'where to go on Friday night', then there is a good chance that you will be offered only a few options that may not meet your expectations. This is because you will be offered only the phrases precisely coinciding with the ones offered by the website. The better results you can get by requesting more specific phrases such as – 'night clubs' , 'theater', 'cultural events'.
Use explanatory phrases to widely used, generalized terms. Without fine-tuning the words you will be offered too much information, making it harder to find the necessary. For example, if you want to find a report, be sure to add the theme phrase 'report Latvian presidents'.
Avoid too long phrases. If you can't find the necessary, perhaps you have requested too long phrase, try to avoid unnecessary redundancy. For example, instead of a phrase 'how much a vacuum cleaner with a detergent function will cost', highlight the keywords 'the washing vacuum cleaner price'.
Use specifying words. For example, typing in the search box 'Rihanna video' will provide you with music videos, concert recordings and interviews. If you're looking only for music videos, better type 'Clips Rihanna'.
Pay attention to word spelling. If the query does not give the results, it's possible you have a spelling problem. Typically, the search engine offers a possible correct version, confirm it, or enter a search query without typing mistakes.
We are open to your suggestions and innovations, and we hope that Inbox supersearcher will become your everyday assistant!