Our team highly appreciates Inbox users – that's why we are trying to make our e-mail service and other products modern and comfortable in its use. Every day the number of Inbox users increases, consequently increases also asked questions about e-mail service and all other Inbox.lv products. We are glad to inform you that from second half of July, we have created new Feedback page, where anyone can find short answers to the most popular questions!
     Inbox.lv is one of the few Latvian portals which offers free technical support to its users. You can get technical support not only by email but also by telephone in Latvian, Russian, English and even in Estonian language. With increasing amount of users has increased also received letters and amounts of phone calls – our customer support department daily receives more than 150 letters and several phone calls.
     We are giving our answers every day in chronological order, but often users want to get an answer right away. To accelerate this process and make it easier and more comfortable, we have created a new design to page "Report a bug / Share an idea". If in the past in this page were available Feedback form (where you can write your question), then now in this page everyone can find short answers to most popular questions related with a user account, mail programs, ads, spam and potential problems with mailbox functionality. All questions are divided into several sections and at the top of each section are placed bright icons.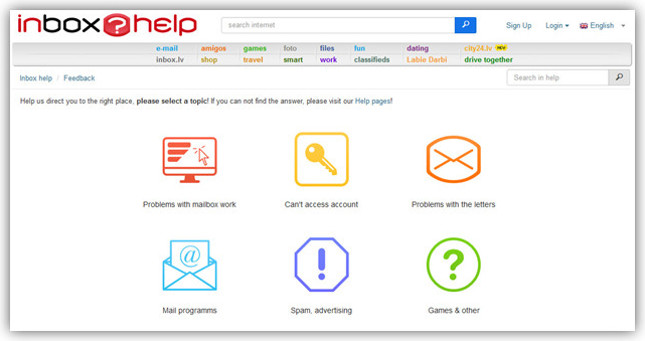 If on this page you still can't find the answer to your question, review all questions or write your question to our technical support department Contacts.